The fully-furnished cottages, with a spectacular view of the natural beauty around, are all crafted out of wood, to preserve that natural ambience.
Our luxury wooden cottages promises a bird's eye view along with pampering your sensibilities with unmatched comfort and premium decor.
Blending effortlessly with the woods around, Arjuna Wooden Cottage is your perfect hideout from where you can enjoy spotting the varieties of wildlife around, either from the comfort of a spacious sit-out or pulling the curtain off your window from the comforts of your luxurious bed.
It was an amazing stay on top of the hill in the middle of greenery and fresh air to breathe. And what more can you ask when you get fresh homemade food to eat. It's a kid friendly location so kids got to enjoy most with the nature around and explore their own world of adventures.
Good place to stay out of the hustle bustle noise...we had relaxing time here with family. . Room are very large and spacious, cool breeze in this hot summer. Host tries to make it more comfortable for all .. we arrived late in the night around 11:30 by bus and host was constantly in touch with us, restaurants nearby were closed due to local festival but host got us breakfast. I would recommend this place for a breakaway and relaxation..
Great atmosphere , good place which was completely booked. I enjoyed all the activities. I loved my room since it was comfortable and large. The food there was fantastic and very tasty. The staff was very helpful and attentive. They guided me to the Valiyaparamba Backwaters.
Also, check out our facilities below
Calm & Peaceful
Find your peace of mind away from the noise and clamour of the world in our resort.
Easy to Reach
A short trip from the Kannur Airport and just 30 kms away from the Kannur railway station.
Swimming Pool
For a quick splash or for a refreshing swim, the pool is always kept clean and ready for you.
24/7 Service
Feel like having a impromptu snack? We are here to make that happen anytime of the day or night!
Sightseeing
Learn and enjoy the local traditions and cultures of Kerala by using our in-house travel arrangements.
KIDS Friendly
Enjoy God's Own Country without worrying about your safety & security of your family.
Woodgreens reservations team is here at your service 24×7 and is accessible worldwide. Feel free to contact us to know more about our services and for a hassle free reservation experience.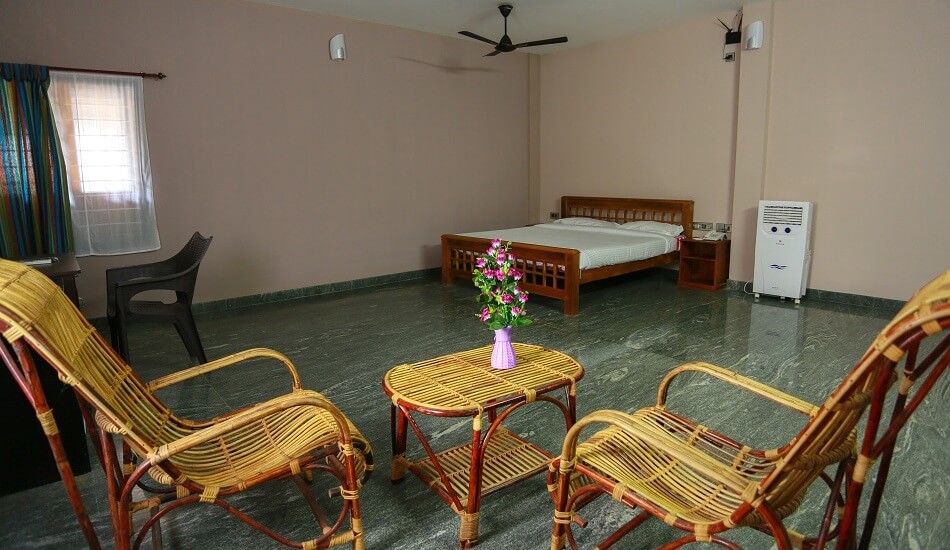 DELUXESUPERIOR SUITE The Deluxe Suites at the Woodgreens Resorts set a benchmark